Monday, December 5th, 2011
---
11:45 am
- *blinks*
Hello, I am emerging from my several years'-worth of self-imposed LJ withdrawal to see if I can get back into this thing. Somehow I completely slipped off the LJ wagon around about the time we moved to the UK, and now we've been here more than two years with no real written record of what that's been like and how it feels and what it means and all that jazz.

So, I am here again, dipping a toe. Anyone got anything they'd like to know?
Sunday, January 16th, 2011
---
9:04 am
- Just Wondering...
[Waves]

Is anyone still on LJ? Should I get back into this thing?
Monday, January 4th, 2010
---
10:48 am
- The Joy of Text
So one of my New Year's resolutions this year is to try to reconnect to the joy of reading -- for whatever reason I have recently been stricken with a sort of apathy/anhedonia or just general dissatisfaction with reading. Partly it must be due to all the other stuff that has been going on with me (i.e. The Move) and also it may be the books I have been choosing.

So, Friendslisters, please make me a recommendation or two. What book/author would you prescribe to someone in order to kickstart their bibliophilia? When you hear the phrase "a pleasure to read" which books spring to mind? Could be fiction, non-fiction, poetry, or anything really...
Thursday, August 27th, 2009
---
8:18 am
- "...Tonight we fly..."
Wednesday, August 26th, 2009
---
8:13 pm
- So this is farewell, radio-style!
Thursday, August 13th, 2009
---
10:14 pm
- Radio Fun
In case you were interested, here's an MP3 of last night's radio show.

Click it and download -- it's a cracker!
6:51 pm
- Perfection as a Hipster -- God Help The Girl
Here's that song I was banging on about. I absolutely can't get enough of it. Neil Hannon! Stuart Murdoch! Male/female duet! It's even got the 'Be My Baby' drum intro! What's not to lo-o-o-ve??


Wednesday, August 12th, 2009
---
7:00 pm
- Radio! Tonight!
Hey ho people,

I'm on the radio tonight! From 8-10pm (IL time), don't forget to tune in and hear Transatlantica: An Eclectic Mix of the Best of British Music. You'll be sorry if you don't.

Why, you ask? Well how's this for starters. What are three of the best things in music? How about

- The honey-rich baritone of Neil Hannon (Divine Comedy)
- The songwriting prowess of Stuart Murdoch (Belle & Sebastian)
- Male/female duets

Now what would you say if I told you that tonight I'll be playing a track that combines all three of these elements? Exciting, no? Seriously, all it needs is some handclaps and it might just be the greatest song ever written...
Thursday, August 6th, 2009
---
11:20 am
- "Sandwich!" "Coffee!"
Just thought I would share this excellent clip from UK sitcom "The IT Crowd" -- it makes me laugh every time I see it.

On a side note, Esme also loves it, and re-enacts it on a regular basis. It's even got to the point where Lucian picks up two random objects and goes "Sandwich!" [throws one] "Coffee!" [throws the other one] and then laughs like a drain.
Wednesday, July 29th, 2009
---
7:32 pm
- Radio! Seriously!
Hey ho all,

Just a reminder that tonight is Transatlantica night! In about half an hour, I'll be on the radio doing my usual 2-hour show, playing an eclectic mix of the best of British music! Click here to open up a webstream and listen in.

8-10pm, Illinois time, on WEFT (90.1fm) -- Community radio for East Central Illinois
Monday, July 20th, 2009
---
10:20 pm
- Ni-i-i-ice kittykittykitty...OW!
I would like to report, after spending over an hour and several hundred dollars at the ER with Esme, that you apparently can't just stop and pet any cute kitty who comes up to you in the street. And if you do, you certainly shouldn't follow said cat when he/she retreats to the sanctity of his/her porch to escape your attentions.

She's OK -- just a whole buncha scratches. (Sadly, although typically of our media-saturated age, the most traumatic thing we saw at the emergency room was a particularly grisly scene in an episode of CSI that was playing on the waiting room TV.)

current mood:
exhausted
Wednesday, July 15th, 2009
---
6:32 pm
- Radio And What-have-you
Hey ho, people.

It's Transatlantica night again! From 8-10pm (Illinois time) I'll be on the air, spinning all kinds of great UK music, past and present, as well as the occasional Scandinavian artist chucked in the mix for good measure.

As always, requests are welcome -- or just drop me a comment to tell me you're listening!

For a live webstream, just click here.
Friday, July 10th, 2009
---
2:25 pm
- Ouchy
My whole body feels sore and stiff and sort of tingly and tired -- I feel as if I have been thoroughly beaten. Also the sole of my right foot hurts, as if I had stepped on something pointy.

This better not be effin' swine flu.
Wednesday, July 1st, 2009
---
7:19 pm
- Radio And Whatnot
Tune in tonight (8-10pm, IL time) to catch me doing my fabulous show -- Transatlantica! An eclectic mix of the best of British music! It'll be fun! Honest!

*nods lots*

Request something and I'll play it, or something that sounds a bit like it.
Friday, June 26th, 2009
---
9:07 pm
- Tact, Five Year Old-Style
Esme just said to me, after a lengthy and just downright physically draining effort to try to figure out the most tactful say to say something: "Dad, I think you need to have more low-fat."

She really tried, bless her, and there were several false starts involving her making the 'pregnant belly' gesture while fumbling for the right words.
Thursday, June 18th, 2009
---
3:43 pm
- A joke to brighten your day
Patient: Doctor, I think I'm going deaf.
Doctor: What are the symptoms?
Patient: They're that little yellow cartoon family from TV.
Wednesday, June 17th, 2009
---
7:47 pm
- Radio Night!
Hey you! Yes, you! The person reading this! You should be listening to my radio show! I'm on tonight from 8-10pm (IL time) and you can listen in by just clicking here and opening up a webstream.

Do it! You really should!

current mood: Exclamatory
Friday, June 12th, 2009
---
8:58 am
- Health Care -- The Cost Conundrum (New Yorker)
If you have some time on your hands, you could do a lot worse than read this article from the New Yorker. In it, a reporter goes to the Texas town that has the highest healthcare cost per capita in the US, and in his efforts to find out why this is the case, he uncovers all sorts of interesting things about the US healthcare system, coming to the eventual conclusion that the debate over who pays for healthcare (government, insurance companies, individuals, etc.) is not the debate we should be having.

Read it. You will be smarter.

(Difficulty: It's the New Yorker, so it's lo-o-o-ong...)
Wednesday, June 10th, 2009
---
6:06 am
- She's a genius, I tells ya!
Quick parental brag.

Esme had to take some screening tests a few weeks ago, in order to allow her kindergarten to get a sense of her abilities (and, hence, place her with the 'right' teacher). Her scores came in the mail the other day. Now, although I have all kinds of problems with the idea of testing 5-year-olds and assigning them numerical scores/rankings/etc., you have to admit that Esme's numbers (right hand column) are darned impressive.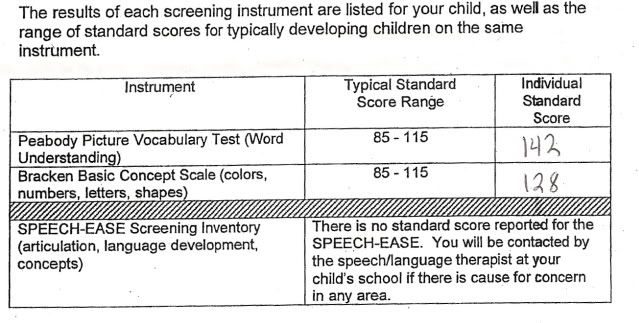 OK, brag over. In other news, she's starting frickin' kindergarten!!
Thursday, June 4th, 2009
---
8:10 am
- "And this one goes our to all the very special lay-deez out there..."
If you're interested, click here to download an MP3 of my radio show last night.

A pretty good one, even if the first few minutes were lost to a webstream screwup.